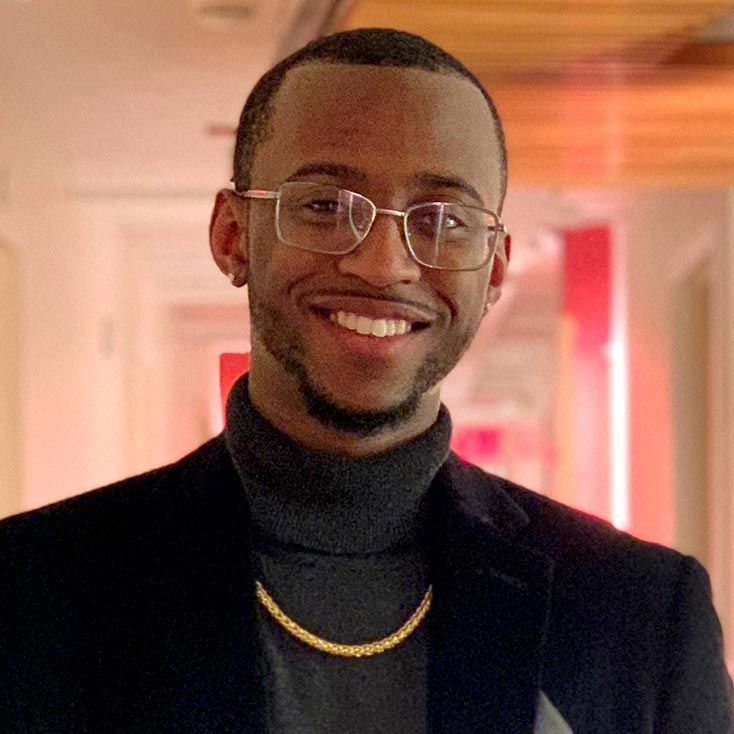 Devin Johnson
Undergraduate '22
Department
Aeronautics and Astronautics
I am a junior, Class of 2022, in the Department of Aeronautics and Astronautics.
Tell us about your first encounter with MIT's OME Office.
My technical first encounter with the OME office was a call from a student representing them soon after I got accepted into MIT to welcome me and answer any questions or concerns I may have had. The first encounter I had with the office as a whole was at a Meet the OME event during Campus Preview Weekend.
What were your initial impressions?
My initial impressions were actually a bit surprised that there was an entire office at MIT dedicated to making students like me feel welcome and supported. Hearing everything I did about the school before attending, I was worried that I would be a lot more stressed and alone, but the OME immediately discarded those fears and, through their programs and personal interactions, let me know that they would always be there if I needed anything.
Did those impressions change over time?
Over time, my impression of the OME has always just been amazed and appreciative that they could support so many communities of students like me and those I am close to.
What programs did you take part in, and how were they helpful?
I have partaken in Interphase EDGE (as both a student and facilitator), Seminar XL, Momentum, The Standard, and E-MAP. These programs all worked hand in hand to improve me holistically as a student and as a person. Socially, academically, professionally, and even financially, the OME has strengthened me through all of these programs and I am extremely grateful that I got the opportunity to partake in them. I actually regret not applying to other OME programs because I know that every program they have, they do well, and make sure that the students come out of it with more knowledge and understanding than when they came in.
What was your most memorable or valuable experience with OME?
My most valuable experience with the OME would definitely have to be my time participating in Interphase EDGE. As an IP scholar, this was my first real introduction to college life at MIT: taking MIT classes, maintaining a proper sleep schedule, making friends, all of these were areas that we all were traversing for more or less the first time in an environment like that one, and yet the Interphase team found ways to keep us happy and motivated and not despising MIT. The friends I made then are some of my closest friends now, and the lessons I learned about myself are integral to who I am now. The advisors, facilitators, scholars, professors, and staff all do a wonderful job to make Interphase EDGE such an enjoyable, growth-filled experience.
If you had to describe OME with one word, what would it be?
If I had to describe the OME in one word, it would be integral. I say this not only as a math reference for a school of nerds, but also because I truly believe this office is not only integral to my MIT experience, but also to the Institute as a whole. So many amazing programs and events and celebrations are help by the OME, or backed by the OME, or partially funded by the OME, and without all their efforts, this school would be a toxic place for minority students. Because not only are our communities supported by the OME, but other communities are also educated by the OME. Especially now in a time of surfacing racial injustice, the OME has been a large supporter and proprietor of community events and attempting to share knowledge and create a more inclusive MIT community.
For current students: After graduation, what are your plans?
After graduation, I plan on going to graduate school and obtaining a Master's degree in Aerospace Engineering. I am still deciding whether or not I want to go straight to school or work in the industry first.