BAMIT Community Advancement Program and Fund (BCAP)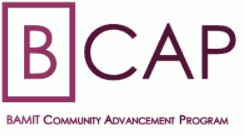 What is BCAP?
Every day, we see the need for innovative solutions to complex problems in our communities, especially in communities of color. We need the power of community.
The BAMIT Community Advancement Program and Fund (BCAP) was created in conjunction with BAMIT's 2018 Capstone Weekend in honor of the 50th Anniversary of the MIT Black Student Union (BSU). Recognized with a 2019 Great Dome Award by the MIT Alumni Association, the Capstone was the largest gathering of Black alumni in MIT's history, demonstrating to one and all the event theme: The Power of Community.
The BCAP supports student proposals for public-service projects that:
recognize the needs of our underserved communities of color
leverage the creative talents and innovative ideas of MIT students, and
marry these needs and ideas with the wealth of knowledge and experience that alumni have to share.
This unique model creates opportunities for students and alumni to use their various and vast talents to make a difference in communities of color, locally and globally. The program and MIT fund are administered by the Office of Minority Education (OME). 
 
Our goal is to create a space where MIT students and alumni can address the challenges faced by underserved communities of color in the US and around the globe. 
We are excited about the impactful programs that we have been able to fund and there is a high demand to support more students.
The MIT BCAP fund is endowed, initially by Capstone proceeds, and now by generous contributions from your efforts and those of so many others.  Your gift will benefit students for years to come and will allow us to fund an ever increasing amount of students. We could not do what we do without your dedicated support.  MIT is a 501(c)(3) institution, and your gift to the MIT BCAP fund is tax-deductible within the limitations of U.S. federal income tax laws. In addition, alumni receive MIT Giving credit.
Thank you for your continued support!
Be the change you wish to see!
Watch the BCAP Inaugural Year Family Weekend Celebration webinar!
BCAP Program Administrator
DiOnetta Jones Crayton,  OME Associate Dean and Director
Gregory Jain, OME Assistant Dean
The BCAP Project Team
Al Tervalon '65, BCAP Project Team Chair
Marie Harton '10, BCAP Fundraising Chair
Cordelia Price '78, SM '82, BCAP Operations Chair
Elaine Harris '78; Michelle Harton SM '83, BCAP Marketing Co-Chairs
Jeffrey T. Anderson '91; Lawrence Bass '75, SM '78; Darryl Fraser '80; Eric McKissack '75; Olumuyiwa Oni '04; Nelly Rosario '94; Emerson Yearwood '80